At Robert Adair Jewellers in Ballymena we place a massive importance on our staff. Our staff are one of our most important resources and that is why we are so pleased to report that they are constantly gaining more and more qualifications.
Congratulations to staff at Robert Adair Jewellers
Recently our staff members Hannah Fleck and Diane McClean completed their Jet 1 Training. The JET training programme offers the jewellery industry's most prestigious professional development courses. They give our jewellery staff a solid jewellery knowledge, confidence and training that they can they bring to their workplace. Hannah and Diane have benefitted from the training and we want to give them a big congratulations for earning their qualifications – they earned it.
Our staff are hard working and friendly and we, as a family run business, believe that this is one of the things that gives us an edge over our competitors. We have the knowledge and the qualifications to back it up.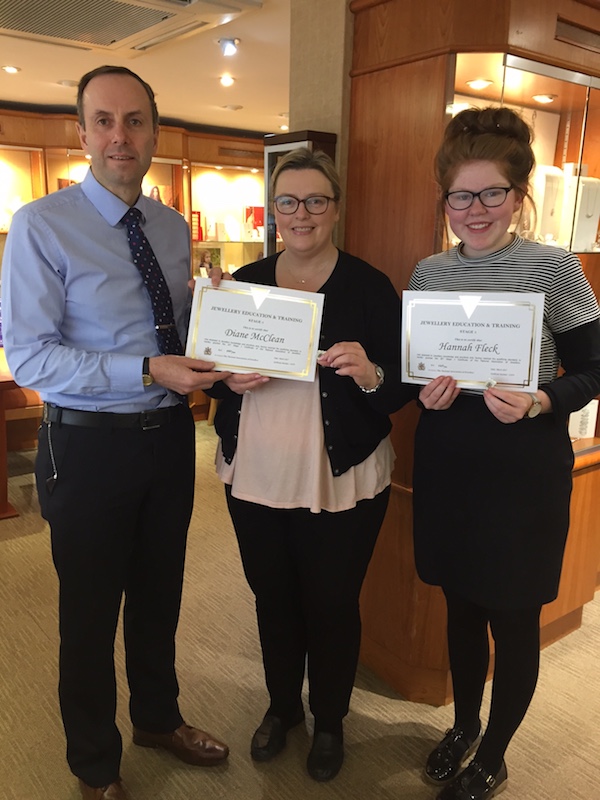 Stuart Adair has a diploma in Horology (3 years), diamond grading qualifications and a diploma in Jewellery from the National Association of Jewellers and knows how worthwhile is is to invest in educating the Robert Adair Jewellers staff members.
So to get the advice of trained professionals about what jewellery is the right buy for you call in to Robert Adair Jewellers in Ballymena.