Join Robert Adair Jewellers in celebrating our 60th anniversary. As a local Ballymena family run business we are delighted to be celebrating this milestone and invite our customers to come down and visit our store.

To celebrate our 60th year in business we are pleased to announce a great range of special offers for the month of October.
Come down and take a look at our celebration window display where all jewellery and watches will have at least 50% off. Don't miss out as we will have many luxurious jewellery items 70% off. All jewellery in the shop will be reduced by 15%.  Another great offer- all THOMAS SABO JEWELLERY will be half price
Also don't miss your chance to enter their FREE prize draw for a diamond pendant worth £1000!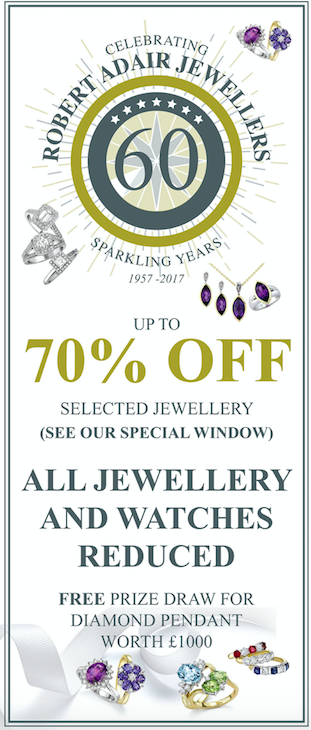 With our sale on until first week in November now is the perfect time to come along and try on your favourite pieces. Maybe you want something special for yourself or to tick off a few important people on your Christmas list. We will be delighted to show you our beautiful jewellery, watches and gifts.
Please celebrate with us and come down to visit our spectacular anniversary window at Robert Adair Jewellers on Mill Street in Ballymena, Co Antrim.