Choosing the perfect wedding ring. Here is some expert advice from Stuart Adair of Robert Adair Jewellers in Northern Ireland.
Choosing a wedding ring might seem a more straightforward task, but it still involves many exciting decisions and is an important investment.You will be wearing your wedding ring for the rest of your life so it's important to choose a design you'll be comfortable with. One of things which you will have to consider is which shape of wedding ring is best.
When it comes to the shape of the bride-to-be's wedding band, the main consideration is how it sits with her engagement ring.
If the engagement ring is straight-edged, a classic, straight-edged wedding band will sit snugly next to it. However, the gemstone setting in some engagement rings will not accommodate a straight-edged wedding band. In this case I would advise a curved wedding ring, sometimes known as a fitted or shaped ring.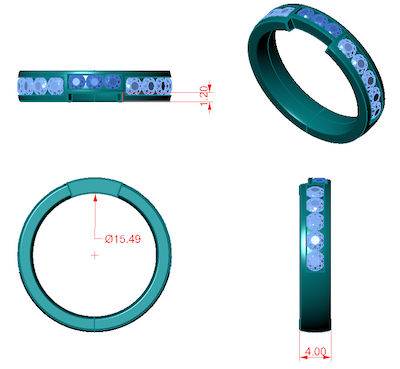 We have a wide selection of shaped wedding rings in stock but if nothing is found to be suitable we can have a ring specially designed to sit perfectly with the engagement ring. This option takes about three to four weeks to complete but we can normally have a CAD drawing completed of the design in about one week.
A great example is this stunning wedding ring. Robert Adair Jewellers helped the couple to design this ring so that the Bride to be's engagement ring would fit snugly beside it. The beautiful design was manufactured and the couple were delighted with their perfect and unique wedding ring. It is one of a kind and a piece of jewellery which will be treasured forever.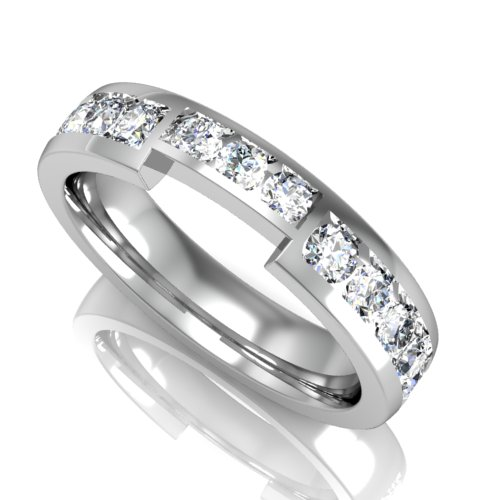 As well as designing and creating a ring to match the engagement ring, we can also utilise an old family wedding ring which can be melted down and reformed as part of the new design either as a completely new ring or as an addition to the new ring. This is a beautiful sentiment which means that a family heirloom can be re-imaged and integrated into something new and special.
Choosing your Wedding ring with Robert Adair Jewellers means that you have a wide choice, expert advice and the opportunity to design a piece which will be unique and made to measure for your needs.
If you would like to talk to us about designing a bespoke ring or for advice about choosing your wedding ring then please don't hesitate to call in with Robert Adair Jewellers in Ballymena, Northern Ireland.